Trade fairs are one of the most powerful marketing mediums as they bring together thousands of international buyers and sellers in one place within a short period of time. They will not only gather all the significant representatives of the industry but they also enable visitors to see and experience new products, services and suppliers.
We gathered some key reasons to attend the largest travel trade fair held in Northern Europe – MATKA Travel Fair 2019. At MATKA the first two days are dedicated for the travel trade professionals to conduct business in various forums.
You have a great opportunity to introduce a new product or a service
As you probably already know, trade fairs are an excellent opportunity to show and launch a new product or a service to potential customers and partners. Also the timing of the MATKA Fair is perfect for launching something new – beginning of the year is time for renewal, fresh beginnings and barely touched budgets.
MATKA Travel Fair will also give you possibilities to discover new markets as during the fair you will experience Nordic, Baltic and Russian markets under one roof.
Opportunities to benchmark your competitors
Trade fairs are an excellent chance to see you competitors in action! By visiting your competitors' booths and seeing them in action you can evaluate your company's competitiveness and make sure you can perform even better in the future.
You will get new (international) connections
You can never have too many connections business-wise. Large network of key players in the field will give you competitive advantages and create new business and career opportunities.  Trade shows are excellent for meeting and re-connecting with old connections as well as creating new ones.
Did you know that at MATKA travel fair, you will meet participants from over 80 countries? For example, MATKA Workshop Day consists of events called Meet Finland and Global Workshop, where travel industry professional buyers and sellers meet up at face-to-face meetings set up front. So make sure you will utilize all the advantages MATKA 2019 participation offers. For those who are intrigued to find out more, click here.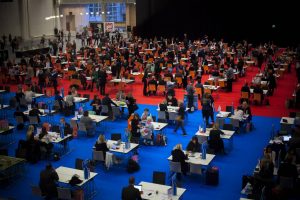 Improved brand image / creating an image
During fairs, you have a unique chance to make sure the visitors will receive the best possible impression of your brand. Face to face connection is a valuable opportunity to get a glimpse of the people behind the brand. Also, you have the opportunity to show off your creativity with booths, samples, gifts and attractions you have in your designed space. At Messukeskus, we have plenty of stand options to best meet your brands' needs. From small to larger installations, we have got you covered.
You will learn new things about the industry
In addition, with the benefits listed above, fairs are great for finding about the latest developments, services and products in the industry. Various activities and demonstrations will help you learn about multiple possibilities which you can hopefully implement to your business. Experience gathered from the fairs will give you confidence regarding the future – you will know if something will work or not. Diverse program, interesting speakers and valuable contacts will ensure you will stay on top of the game and leave with a smile on your face.
You will get inspired!
Trade fairs are excellent events for getting inspired – you can even discover new markets and business or partnership opportunities. Staying up to date with the newest trends in the field will hopefully spark your imagination for the future.
You will increase your sales
Last but definitely not least –  fair participation will create a positive impression of your company which will lead to wider brand awareness and greater interest towards your business – in other words, things that add to your sales. Increase in sales will happen in short and long terms – direct sales during the fair is a major benefit without forgetting the chance of reaching a range of new leads and customers for your business that generate business in the long run.
During MATKA Travel Fair, you will reach both B2C and B2B target groups from multiple different markets and open up new possibilities for growth according to your objectives.
According to our studies, an astonishing 88% of the registered travel trade professionals and exhibitors were satisfied with MATKA Travel Fair in 2018.
Ready to become one of them?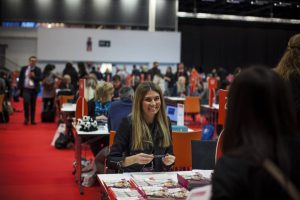 —–
MATKA Nordic Travel Fair – 17-20 Jan 2019
MATKA Workshop Day 16 Jan 2019 https://matka.messukeskus.com/exhibit/workshop-day/?lang=en